Tape formats include SVHS, VHS, SVHS-C, VHS-C, Betamax, Video8, Video Hi8, Digital8, MiniDV and DVCAM.
Have a look around your home, somewhere there is a drawer full of old VHS or camcorder tapes, ageing home movies that probably have not been watched for years. Tape can degrade over time and creating a digital copy will help protect your unique video memories. At HDVSMedia we do not just copy your tapes - we can remaster and improve them, making them a more enjoyable experience. Once encoded we take out the black recordings or the unwanted footage and then burn to a colour printed DVD-R disc to complete the transfer. We can also transfer to hard drive, SD card or USB memory.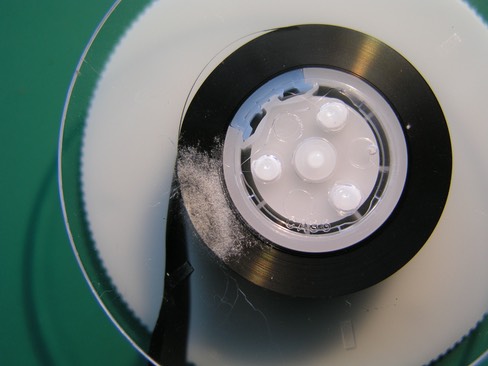 Remember, tape quality can deteriorate over time so do not miss the opportunity to preserve and share those special memories for years to come. The illustration right, from a recently received video8 tape, shows 'fungal blight' or 'tape mould', and it is highly contagious. Storage in damp conditions and temperature variations can decimate tapes. Whilst correct storage of media is important to protect the original source, digitally encoding the tape is the only practical method of preserving the content.
VHS/VHS-C/MiniDV Tapes
Digital Transfer (per tape)  £20.00
Video8/Hi8 Tapes
Digital Transfer (per tape)  £25.00
SVHS/SVHS-C/Digital8/Betamax/DVCAM Tapes
Digital Transfer (per tape)  £30.00  
What to do next
Clearly title each tape i.e. number/date/location and think of a project title i.e. Smith Family Video Memories and put them into chronological order if you have multiples.
MAKING THOSE MEMORIES A MORE WATCHABLE AND ENJOYABLE EXPERIENCE